Recycling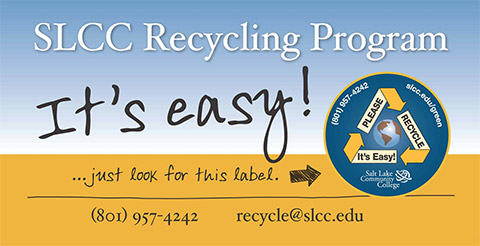 Recycling Links
History
Salt Lake Community College has been recycling paper and cardboard since 1995, with improvements every year as funds and manpower have become available. Beginning fall semester 2010, we will be expanding to become a centralized recycling program thanks to new and one-time funding.
In partnership with SLCC's Environmental Club, Student Life and Leadership and all crafts from the Facilities Division, we've set our goal to capture larger volumes of recyclable items produced at the college. We will also be placing greater emphasis on recyclable items that can be separated or scrapped before being disposed of as waste. This translates to an emphasis on clean paper and cardboard, as well as empty plastic and aluminum from offices, classrooms and common areas. Some of the items scheduled for recycling are: cardboard, paper products, newspapers, broken pallets, sawdust, plastic, carpet, used motor fluids, batteries, toner cartridges, refrigerants, electronic waste, steel and much more. You will soon see additional recycling containers placed in many common areas on all the campuses. Please use these containers, as marked, to keep the recycled items separate and the containers clean.
Everyone can help by sorting recyclables into the proper category (paper, cardboard, plastic, and aluminum) and by taking recycling containers to centralized collection areas. We want to do our part by keeping these materials out of the landfills. The more we do, the more we keep the recycling stream clean and will have a tremendous impact for generations to come. Taking these steps can also help make the new recycling program a success, which is important because the College has limited funds and man power.
Contact Recycling
Contact Chris McCarty at 801-957-4242, for help with your office clean-up, campus event, help separating your recyclables, upgrading your present container or if your department has other types of recycling that should be considered.