SLCC Buy
SLCCBuy is the College's new electronic Procure-2-Pay system designed to take you from purchase through payment.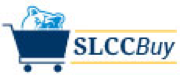 Click the logo above to log in to SLCCBuy. By logging into SLCCBuy, department shoppers can place orders directly with contract vendors (catalog orders). If the item you want to purchase is not on contract, login to SLCCBuy and submit a non-catalog request (requisition), and Buyers in Purchasing Services will assist.
SLCCBuy is also the new place to process payment requests: mileage reimbursement, expense reimbursement, and other check requests.