Purchasing Card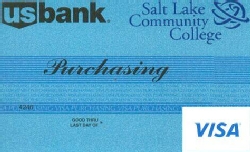 The purpose of the Purchasing Card is to establish a more efficient, cost effective method of purchasing and payment for low-dollar transactions. The Purchasing Card is the preferred purchase/payment tool for low-dollar purchases under $1,500.00
For more information regarding the College Purchasing Card, please contact:
Purchasing Card Specialist
801-957-4256
purchasingcard@slcc.edu
The Purchasing Card cycle dates are the 25th of each month. Receipts and packets are due no later than the 10th of the following month.
To dispute erroneous charges, call US Bank Customer Service at 1-800-344-5696. Press the star key twice ** to reach a person. Tell them you want to dispute a charge on your purchasing card and follow their instructions.
Please print and use the following forms as necessary:
To report suspected misuse of the P-Card, any person may contact the Whistleblower Hotline at the SLCC EEO/Risk website, and follow the Whistleblower instructions.