What is Community Engagement?
Salt Lake Community College is an engaged campus. Our commitment to engagement is central to our mission, vision and values. Community engagement is an educational strategy: a way to advance institutional goals of improving transfer preparation, increasing student completion, aligning with workforce needs, and achieving equity in student participation and completion. It is also a way to serve our community. Equally important, it is a way for the College to demonstrate to the communities and students we serve that we value them and want to work with them to advance our common interests. We integrate the community into every aspect of our operations.
The College defines engagement as reciprocal collaborations with local, regional, national and global communities for the purpose of a mutually-beneficial exchange of knowledge and resources. College-community partnerships enrich scholarship, research and creative activity; enhance curriculum, teaching and learning; prepare educated, engaged citizens; strengthen democratic values and civic responsibility; address critical societal issues; and contribute to the public good by effecting positive change in the civic and cultural life of our communities.
Reported hours also track service in Student Life and Leadership, Athletics, the Community Writing Center and select outreach programs (such as Expanding Your Horizons and First Lego League). We are working to expand data collection to include currently unreported engaged learning activities.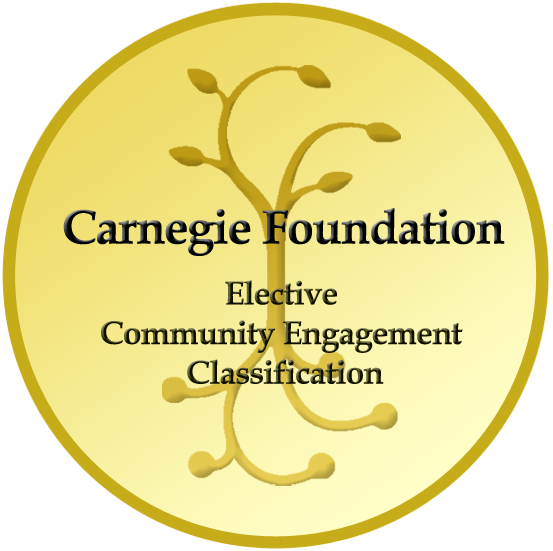 The Carnegie Foundation for the Advancement of Teaching awarded Salt Lake Community College the prestigious Community Engagement Classification in 2015. Similar to accreditation, the award signifies evidence of "exemplary institutionalized practices of community engagement." The award recognizes that SLCC has embedded community engagement in our institutional structure and in our policies and practices. It acknowledges the integral role that community partnerships play in our scholarship and outreach. SLCC was one of three community colleges to receive first-time classification in 2015.
We work closely with the local business community and government to advance economic development in the Salt Lake Valley. Salt Lake businesses sit on SLCC Program Advisory committees and College Advisory councils, reciprocal collaborations that allow us to create programs responsive to business needs and ensure student success in our communities. Through credit and noncredit workforce development programs, we have developed strong and enduring community and industry partnerships that contribute to the economic health and cultural vibrancy of Salt Lake Valley.
We are using the Campus Compact Civic Action Plan to set internal goals and benchmarks that will guide us as we build on the progress we have made and enhance and promote engaged scholarship, teaching, outreach and partnerships that serve as a cornerstone of the College.