Emergency Alert Notifications

Salt Lake Community College has instituted the Emergency Alert System (EAS). In the event of a large scale emergency or disaster, the EAS gives the College the ability to notify everybody who has signed up for the service.
In the event of an emergency, subscribers will be immediately notified by the communication devices they list when they sign up. Email, SMS (text messaging), mobile phones and landline phones are all devices that can be used by the EAS.
A message from the SLCC Emergency Alert System will inform subscribers of an emergency as well as pertinent instruction or directions intended to safeguard students, faculty and staff. The College tests the EAS each semester.
Student information is already added into the system from enrollment records however, students and employees are encouraged to visit the EAS link on their MySLCC account and put in additional contact information in order to receive emergency alert messages on all of their communication devices.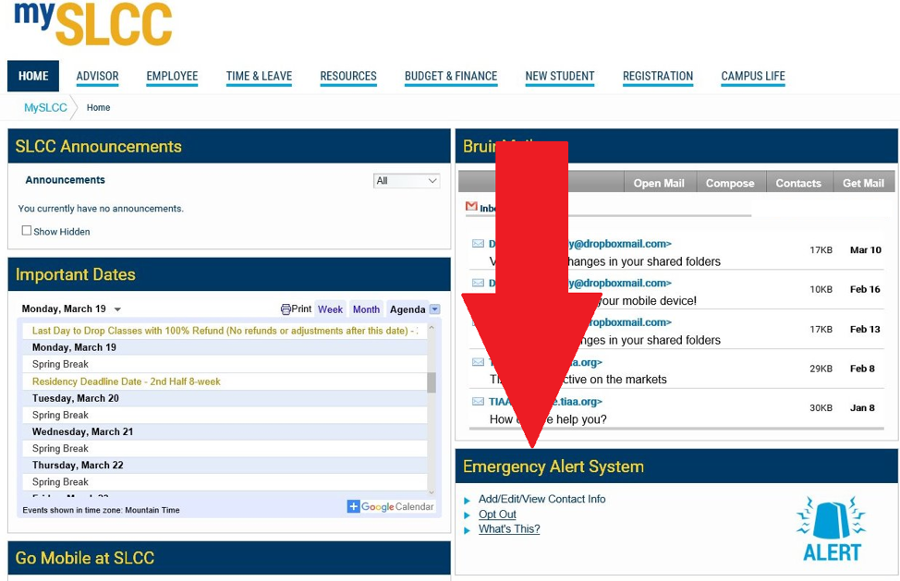 If a student chooses not to receive emergency alert messages, they have the option to remove their information from the system. To stop receiving messages, sign into your MySLCC account, click on the Opt Out link under the SLCC Emergency Alert System icon.
See Emergency Notifications for more information.