Emergency Alert System
Salt Lake Community College maintains an Emergency Alert System (EAS). In the event of an emergency, the EAS allows the College to quickly inform Students, Faculty, and Staff of the incident and advise of protective actions to take, such as evacuate, secure in place, avoid a certain area etc.
Alerts are available via SMS (text messaging), cell phone, email, landline phone, TTY, and mobile app. Student email, employee email, and employee work phone numbers are automatically added into the system. However, students and employees are highly encouraged to visit the EAS link in their MySLCC account to add additional contact information, especially mobile phone numbers. (Please note that to receive both SMS texts and calls to a mobile device the phone number must be entered twice, once in the Text field and once in the Phone Number field.)
The College tests the EAS each semester. It is advisable to save the contact number of the EAS test into your phone in order to help quickly recognize messages and calls from SLCC Emergency Operations. 
The EAS system used at Salt Lake Community College is provided by Everbridge. The Everbridge mobile app can be downloaded and once signed in will allow the recipient to receive push notifications as well as allow the recipient to respond directly to SLCC Emergency Operations.  Log in information will be sent along with each EAS test.
The college also has the ability to temporarily add subscribers to the EAS during events on campus via SMS opt-in. If this option is provided during an event, subscribers simply text a provided key phrase to a provided number to enroll. Once the event timeframe expires subscribers are automatically removed from the system.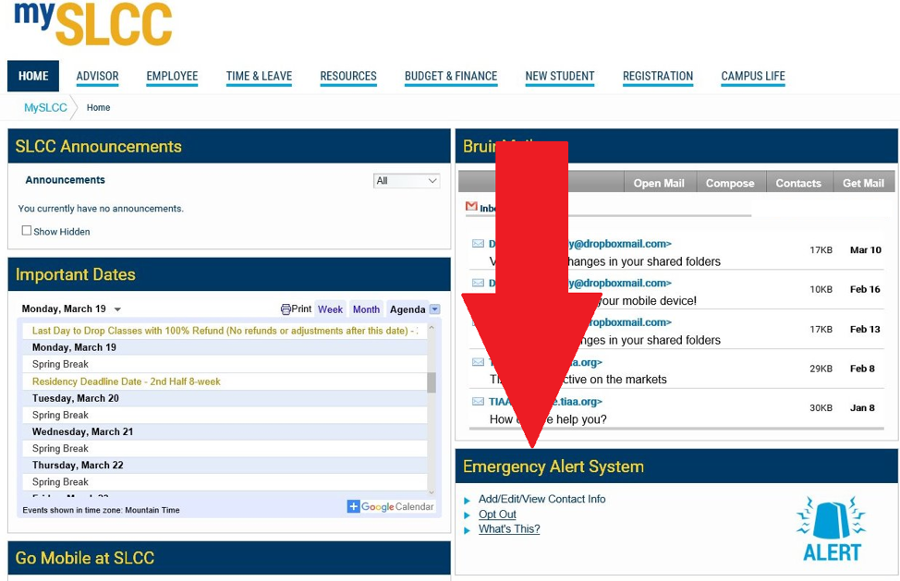 Students may chooses not to receive emergency alert messages. To stop receiving messages, sign into your MySLCC account, click on the Opt Out link under the SLCC Emergency Alert System icon.
See Emergency Notifications for more information.